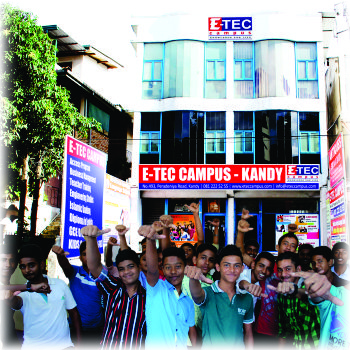 WELCOME TO E-TEC CAMPUS KANDY
E-Tec Campus is a private Educational Institution that caters to the needs of students who are career oriented in the fields of Management, IT, Teaching of English, Teaching and Construction studies.
E-Tec campus has the best environment for studies for the above disciplines and is equipped with the best of resources and environment where the commitment of students to innovate and achieve excellence in their chosen fields. Situated in the Central Province it caters mostly for students in the Central Province, and also accommodates students from other parts of the country too.
The campus offers a very comprehensive course of studies in various fields and consists of a highly qualified Academic staff who are both academically and professionally qualified with modern educational and coaching methods which provide a fully comprehensive knowledge going beyond a mere qualification, too its students.
Our Campus is built on a picturesque land in the hill capital of Kandy, where the buildings are built to give and create a modern environment for various fields of studies. These buildings are equipped with all the modern teaching equipment and caters to the needs of the different courses of studies that are on offer.
The E-Tec campus also caters to school leavers who are in need of a career oriented course of study in their chosen fields and gives a practical and in-depth knowledge in their chosen fields both as professionals and as academics to meet the ever demanding modern professionalist that is required in the modern job market.
COURSES @ E-TEC CAMPUS KANDY